G & T Weed Management has a fleet of vehicles for boom spraying applications. We can send a suitable vehicle to suit your needs with boom widths ranging from 5 meters to 15 meters we have one to suit your paddock. 
We use only the latest in spraying equipment, allowing our operators to effectively cover your paddocks, pasture and crops in minimal time giving a great result.
We have specialised vehicles fitted with 8 meter booms with AIXR air induction nozzles so when the weather closes in and your paddocks get too wet for our larger utes, we can still get to your weed issues with these specialised machines. These  are also fitted with RAVEN and TEE JET GPS units and have a 400 litre capacity which is great for the smaller areas. Our boom-less nozzles are excellent for when there's lot of tree cover allowing our operators to get in to tight areas.
G&T Weed Management also has two V8 Landcruisiers allowing us to serve our larger acreage clients.The Landcruisiers are fitted with a with 1200 litre tanks for those bigger areas it has hydraulic lifted boom arms and adjustable height all operated when needed from the safety of the cabin. This vehicle is also fitted with a carbon cabin filter to take out all airborne chemical particles from the air before it enters the cabin thus keeping our operators safe.
Our Landcrusiers are  fitted with an Arag Bravo 180 and Raven GPS which means we can cover a lot of your ground in a day. It is fitted with a quick fill chemical hopper system that minimises down time when filling. G&T Weed Management has a dedicated chemical trailer fitted with a Honda firefighter pump thus keeping down time filling to a minimum. These units are also used for local shire's road side shoulder spraying with up to a 5meter spray swarth at 30km per hour. G&T Weed Management covers more than 3000 kilometers of road sides per annum.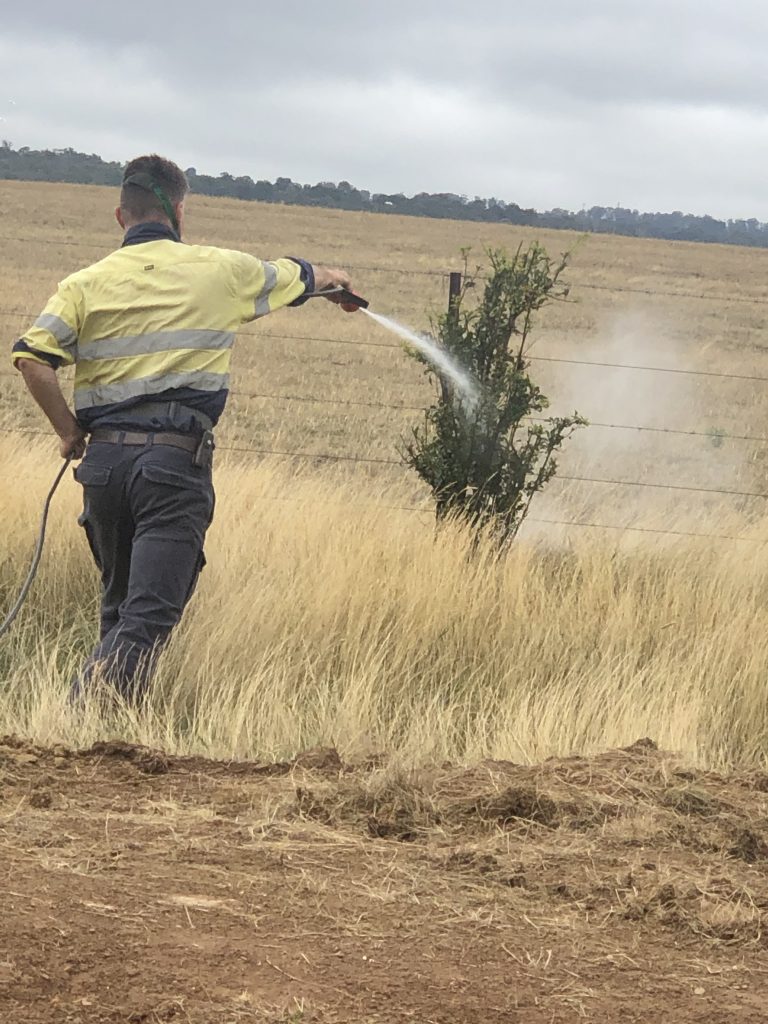 G & T Weed Management has many years experience in hand spraying, especially in sensitive areas where there may be some environmental factors to take into consideration. 
We take our time to ensure that no 'non native' plants are killed as a result of overspray or drift.
Our vehicles are fitted with dual hose reels each with 200 meters of hose, which can be joined to give a total length of 400 meters if necessary. Our tanks carry up to 800 litres of liquid which ensures the job gets done that same day and with no down time for clients. 
All vehicles are fitted with the required safety equipment to meet OHS standards.
For those difficult to get to places, G&T operators have hiked in to areas with back packs to spray black berries when we can not reach them with our hoses and spray guns.
G & T Weed Management has over 30 years experience an as such we have forged many strong relationships with many key clients who appreciate the time and care given to private land, riparian waterways, forest environments, national parks, state forests, significant road side vegetation areas, wetlands and local indigenous sites. 
Our proven successful hand spraying work has seen us continue to service the various organisations we have for decades. 
We have also been called in to take over working in numerous sensitive sites where other contractors have not meet expectations.
If you have a sensitive environmental areas that requires specific   weed control, Contact us today to discuss your service requirements.
G&T Weed Management's GIS Weed Mapping system has become an integral part of our business operation. 
Investing in this technology has allowed G&T Weed 
Management to achieve accurate mapping of native grass lands, bushland forest riparian areas and council maintained road sides for both invasive weeds and vermin.
G&T Weed Management recognises the value of geographical data and has invested in technology and techniques using a powerful GIS mapping tool to collect valuable data to highlight your projects or property's points of interest. This allows for easy planning and reporting. 
Desktop and mobile GPS technology is used to develop accurate management plans based on raster layers such as aerial photography and topographic maps of your site.
We have invested in the latest hand held GIS data mapping tablets and software that have enabled us the ability to develop and implement data collection forms and produce maps to substantially accelerate field data collection. 
Using the latest software and motion 12.5 hand held 12 inch tablets, G&T Weed Management can accurately record points of interest, whether that be new weed infestation or vermin, that might be completely unknown to you. We can create specialised GIS maps, nesting box maps and inspection records.
Alternatively, if you have already mapped and area you would like inspected you can simply email us a file of the data (TAB or SHP file formats preferred). Using our weed mapping software along with other GIS data collection devices will allow us to accurately find the recorded spot with minimal effort saving you client valuable money.